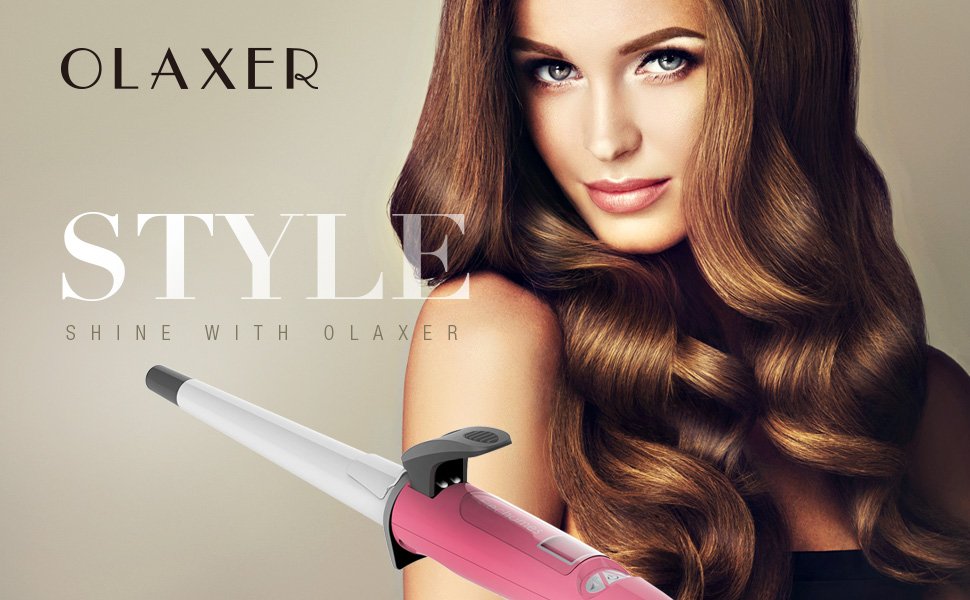 I have curly hair, but my curls have a mind of their own- they go the way they want too! I wanted those gorgeous ringlets I had when I was younger. Well, I can now with the Olaxer Digital Ceramic Curling Wand. The other day my daughter who loves doing her hair asked if she could curl my hair for my date, I couldn't pass up being pampered. I let her, and both of us were very impressed with this curling wand.
See how beautiful my curls are now!
Easy Temperature Control Temperature can be adjusted or locked unlocked Temperature unit can be shift freely to better cater for your requirements

Swivel Power Cord and Auto-Off Power cable can be rotated three sixty degrees for easy hairstyling Auto power off thirty minutes after no operation In case if the clip won't close please clean the clip and tighten the screws to solve this problem

Ceramic Curling Wand has LCD Digital Display Monitors the LED temperature settings to ensure you are maintaining the temperature to your liking

Hair Curler Rapid Heat Speed Preheats up to one sixty and one seventy-six C in an instant to beautify your hair with the highest heat at two sixty C to four hundred and ten C

Curling Iron used Nano Ceramic Technology Provides high even heat that penetrates hair from inside out helping reduce static and frizz for distinctive smooth hair with shiny curls
All evening I was whipping my curls around and oh my the husband loved the curls too! I plan to use Olaxer Digital Ceramic Curling Wand every time I have places to go and people to see!
Guess what ONE OF OUR KTOT Readers will WIN an Olaxer EB201 Digital Ceramic Curling Wand of their own. Oh yes, you can have these gorgeous curls too! So enter the giveaway below and GOOD LUCK.