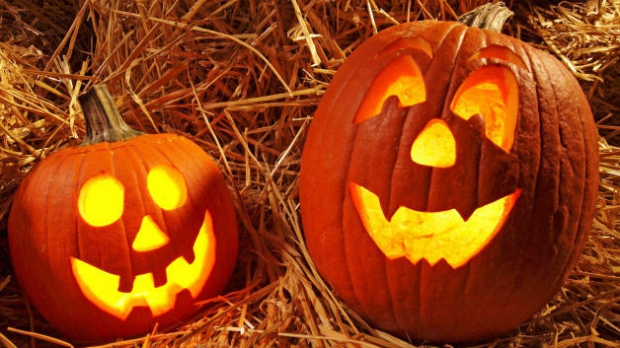 Looking back on when I was a kid around Halloween time, spending time having fun with cool projects was always my favorite. We always put together most of our Halloween decorations ourselves and when we were done we usually had plenty of scrap materials and supplies left over to put together however we wanted which meant sitting down together to make some fun Halloween crafts! Those are definitely some of the memories that I hold most dear from when I was young and I want to share with you some of the neat arts and crafts projects that I looked forward to making every year.
Every year around the end of September my grandmother always started washing out and saving old milk jugs, recycling them into fun, silly craft ghosts was one of her favorite parts of the season! Putting them together is simple, all you need is a clean recycled plastic milk container, a white plastic bag, some black marking pens (Sharpies work best!), a roll of tape, and some string, twine, or fishing line. First take a pair of scissors and cur the milk jugs in half across the middle, leaving the upper half with the handle intact. Once you have that, shake out one of the white plastic bags and pull it over your half-jug so it's draped over the top so the seam of the bag is about where the lid is. For attaching the hanging mechanism there's a couple different options, you can either tie the string (fishing line works best for a "floating" appearance!) around the lid section of the jug or poke a hole in the top of the bag and the lid of the jug and tape your string or line to the inside of the jug. Once your ghosts has mostly taken shape all you need to do is use your pens to draw on whatever kind of face you'd like and you've got yourself a fun ghost you can hang anywhere inside or out!
Jack-o-Lanterns are great fun to carve faces into, but it's always sad to see them get rotten from sitting outside and having to throw them away. Instead, make ones that you can enjoy all year long with some simple craft materials! You'll need some felt in a couple different colors (make sure there's no shortage of orange!) along with some fabric glue, and some colored felt pens, anything else you'll need is up to you to decorate them with. Simply cut out pumpkin shapes in the felt and use other colors and shapes of felt to put funny, silly, or spooky faces on them. Customize them any way you like when you're done, sprinkle them with glitter, draw designs with the felt pens, or add unique and funny features to them, then put them up on the fridge or the wall for everyone to see.
If you like Jack-o-Lanterns and want to make a pumpkin related craft but aren't interested in felt or don't want to do anything with a full pumpkin, try this palm sized Halloween craft out. For this one you'll need some of those miniature pumpkins (the small ones that fit in your hand and are only a couple inches across), some black heavy duty construction paper, black and white paints, and some glue. Another simple craft you'll be starting with tiny pumpkins and ending up with small, cute bats! Start by painting the pumpkins themselves all black and using white paint to paint in eyes on the front. Then all you need to do is cut out and glue on bat wings from the construction paper and you've got adorable, festive table centerpieces or neat gifts you can hand out to friends and relatives who visit on Hallow's Eve.
Like any holiday, Halloween is a time for families to come together and do something fun. What better way to remember your fun Halloween experience than by making something you can enjoy long after the holiday is over!