Kids are back in school so time for me to CLEAN my house. Cleaning house with children is not even worth it. They seem to mess up everything within minutes, so I rather do it when they are gone. Plus it makes me feel good to have a clean house. But what I like even better is that my house doesn't smell like cleaners. Not attractive at all! Hate walking into a room and LEMON CLEANER hits you hard and then nose itching the whole time. No, thank you!
I started using the FORCE of NATURE Starter Kit this week and oh my goodness what a big difference in my house. First, let me tell you I had fun making this cleaner. There is no overwhelming cleaner smell that my kids always complain about it anyways! One bottle cleans every room. I don't have to use 3-4 different cleaners- JUST ONE!
FEATURES:
Eliminates germs that cause flu and cold viruses.
Zero Toxins
Disinfects up to 10x more than bleach
Cleans up sticky messes, mold, mildew, soap scum and grime
Safe on any surface- wood, tile, granite, glass, stove tops and much more
Streamline cleaning products- one product
Cost less than half of most conventional cleaner- upfront cost high BUT not in the long run
Removes odors from trash, kids items, pet items, sports equipment, and even shoes
Safety disinfects baby gear like high chairs, bibs, toys, and pacifier
Has an On-the-Go Bottle- put one in a purse
Eco-Friendly- no chemicals no plastic bottles and shipping materials are biodegradable
Now like I said the upfront cost is high ($89.99) but in the long run you will save a lot of money! It comes with five capsules, and the capsules cost $20 for 25. Each capsule last for two weeks!
When I first took the FORCE of NATURE out of the box I was a bit taken back- what do I have to do? Can I do this? I shouldn't have questioned anything; it was super simple to set up so don't let all the pieces get you! There is Quick Start Guide that walked me through the steps and within 8 minutes I had my cleaner I made (kind of).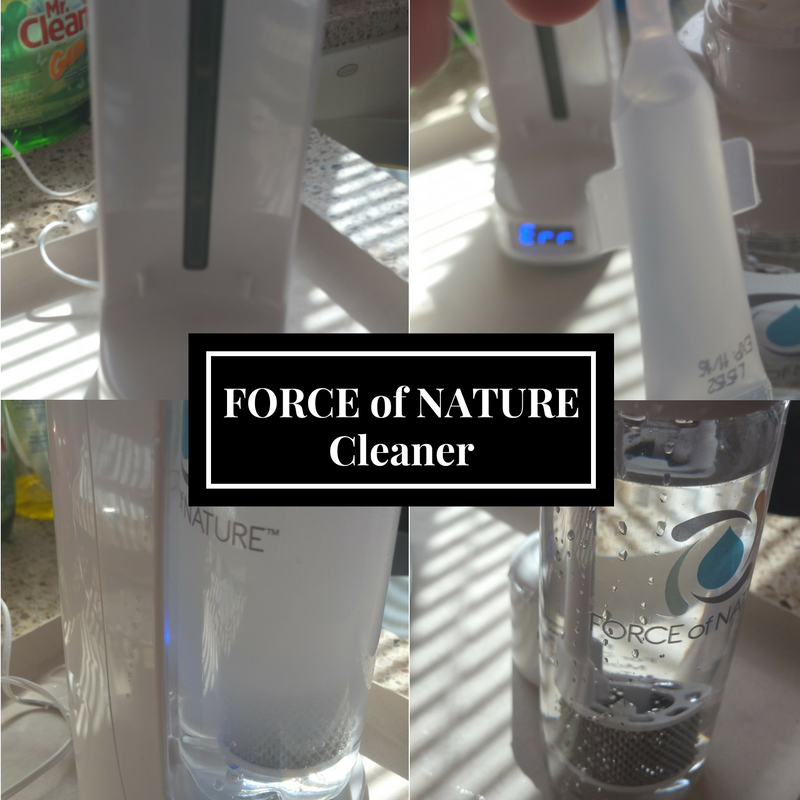 HOW TO MAKE IT:
Plug in BASE
Activator Bottle- fill up to the line with cool tap water
Squeeze in one capsule
Close cap and connect to base
Press start button and wait 6 minutes
After it says END then you can pour into Spray bottle (don't forget the On-The-Go Bottle)
Spray and clean away
I was amazed at how the premeasured capsule of salt, vinegar, and water mixed into a chemical composition by using innovative technology. That's where the SCIENCE come in.
I took a quick video:
I cleaned my kitchen after my husband barbecued because he is super messy. And I was impressed.
Learn more and buy from ForceofNatureClean.com ( I saw a $30 off coupon too on the site).
This is not a sponsored post, we were given a sample for review. All opinions are my own.