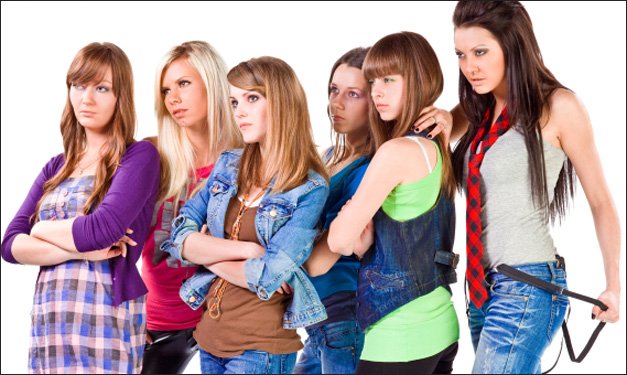 Many parents have trouble with their teen's friends, and many of us remember being teens and how our choice of friends caused friction in our families. I know I find myself checking Amanda's friends out, asking her questions. I also have learned to trust Amanda and her choices and found the following tips to help. If your teen's friends are causing you worry, here are some ideas as to what you can do.
Why Don't You Like Them?
When pressed, some parents can't really point to specific things they don't like about their teen's friends. It may just be a "vibe" parents get from the friend, or just his "look." As a parent, take some time to identify what you don't like. Is it a concrete fact (David was caught shoplifting twice), or a rumor? Do you dislike the friend because she has truly dangerous traits, such as a tendency toward criminal behavior or violence, or you just don't like her piercings?
Sometimes it's just a parent's personal opinion about a friend that causes them to dislike him or her, such as a quiet personality or a tendency toward nervous chatter. Try to keep your personal opinions out of it; that's a matter of taste, not safety. It's important to distinguish between truly dangerous traits and ones you just don't like.
Don't Make Snap Judgments
Few things drive a teen closer to his problem friends than a parent's snap judgments! You may tell your teen you just don't like his friends when you don't really know them, and this can make your teen very angry, possibly driving him closer to the friend in order to try to prove you wrong.
Get to Know Them
Take time to get to know your teen's friends. Then, if you really do disapprove of them for legitimate reasons, you have a leg to stand on. Think about opening your home to them or driving them to outings. Your initially accepting attitude will probably go a long way in establishing your credibility if you have issues with your teen's friends later.
Talk to Your Teen about It
Don't be afraid to confront your teen about her friends. In a non-challenging, non-judgmental way, take some time to talk to your teen about the friends you dislike, and why. Be specific about what you don't like. It wouldn't hurt to point out where the friendship could lead if it continues. Ask your teen why they like so-and-so, and get specifics about why they value the friendship.
5. Teach Them about Good Friends
Instead of telling your teen everything you don't like about his friends – because there really is not a lot you can do about their choice of companions – make a point of talking to him about what friends should be. Take some time to teach your teen what traits to look for in a friend.
You will need to be subtle – teens know when you are trying to drop hints and come at something from another angle. But if you are fairly light about it and "sow seeds" about what traits to look for in a friend, they will hopefully begin to see that their choices may not be reflective of what they know is right.