CLn Facial Cleanser Product Review
Pam's Review:
Acne was never a real issue with me growing up so when my kids started getting a lot of bumps on their noses I didn't know what to get to help them. We tried face wash from Target- nothing happened. We tried other acne washes but it seemed to make them break out more. When my daughter's forehead broke out bad we tried CLn Facial Cleanser and it cleared up in 2 days. She uses it every time she takes a shower now- part of her beauty routine in the morning. She hasn't broken out in a couple of weeks, well not since we started using CLn Facial Cleanser. My daughter didn't even want to go to school with her forehead all broken out so thank goodness this worked or else she would have thrown a fit. Phew..thanks CLn no Monday Meltdown! My son uses it too but won't let me take pictures of him, he is 13. He is in puberty so breakouts are common with him however lately it's not as bad. He likes the product and already wants me to get his own bottle. It's a bit costly but so worth it!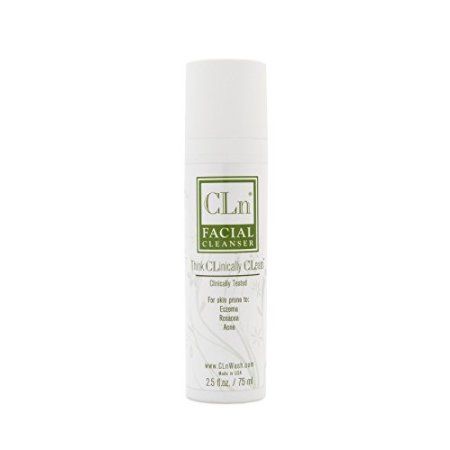 CLn Skin Care is a TopMD brand developed by dermatologists. The line functions to serve athletes and anyone prone to skin sensitivities. CLn's six products effectively cleanse the face and body for a fresh, blank canvas. Try CLn BodyWash and CLn SportWash for your body and CLn Facial Cleanser for your face. Gentle enough for everyday use, products are available for purchase online: www.clnwash.com.
They carry body wash, sport wash, shampoo and hand/foot wash. These products are excellent for from children/adults with eczema, acne sufferers and athletes. Doctors designed this product when one of them broke out when he went to the gym. They designed the first CLn BodyWash, the first "bleach bath in a bottle." It's a gentle, cosmetically elegant cleanser in a special airtight bottle with a unique, one-way valve, built to be used in the shower or bath. From then on they designed other skin condition products.
Check out what product helps with certain conditions …HERE. Also loved the fact they have Doctor Trained Advisors on the website to help with your questions.
CLn® cleansers are available from dermatologists and at CLnWash.com.
Connect with CLnWash.com on Facebook, Twitter, and Pinterest