ChewBeads Teething Necklaces
ChewBeads make you look stylish and chic and are soft for your babies gums and their teeth as they come through. They are so super awesome they even have dog tags for the parent's that are on duty. 100% silicone beads ( similar to pacifiers and the mother's nipples ). They contain no BPS, phthalates, cadmium, lead or metals. Super easy to clean up – use soap and water or they are dishwasher safe. Breakaway clasps are added for extra safety and they are a great sensory tool that help you baby learn how to focus while nursing.
ChewBeads Stroller Toy/Car Seat Attachment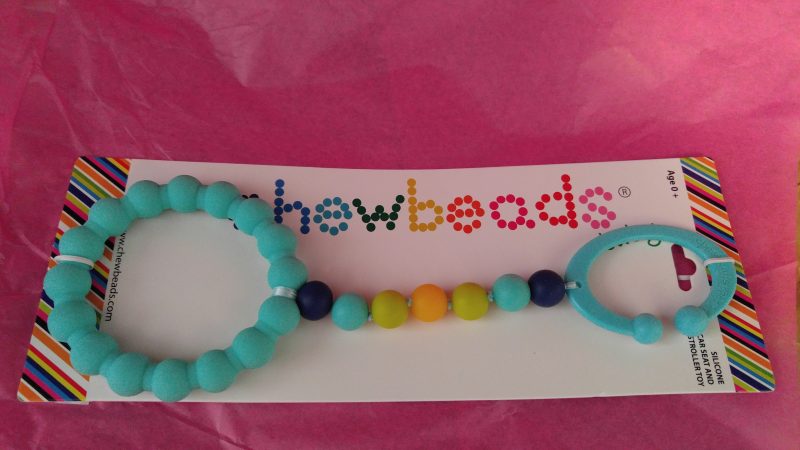 I remember when my kids were little and I tried to run errands with them. It was hard to juggle getting the errand done and keeping them occupied and happy. With my grandkids now ChewBeads is my go to toy, teething ring, bracelet, my go to everything. The baby stroller toy is made from silicone beads that are attached to a plastic clip that can latch to anything you need it to. Not just strollers – walkers, car seats, carriers, cribs or playpen. Anywhere you may need it.
The colors interested your baby while being safe to chew on and soothe those sore gums. They even have a toy that glows in the dark, I have to admit I like playing with that one myself. But I still share with my grandson. So many different colors and varieties that you will be able to match any color scheme you have. The soft, flexible ring is also great for curious hands and mouths. Just like the teething necklaces they are easy to clean with soap and water or you can put them in the dishwasher. We love ours and know that you will also.
Head on over here to keep up with the latest news and all of their newest products:
Website/Facebook/Twitter/Pinterest