Having a child can be one of the greatest moments in your life, but it also means that you are about to take in a lot of responsibility. Parenting can indeed be hard, but that's why you have each other when in need of help. As parents, you have to make sure that your child has everything that you need. Although there is one thing that is the most important, and that is the safety of your kid. Safety is important especially when traveling, so you would need a product that can make sure of that right? Well, I happen to know of a product that would be the perfect selection for when it comes to safety. You can't just have your child in an unsafe situation when on the road. So check out the information on the product selection that I have for you below.
Diono Rainier Convertible Car Seat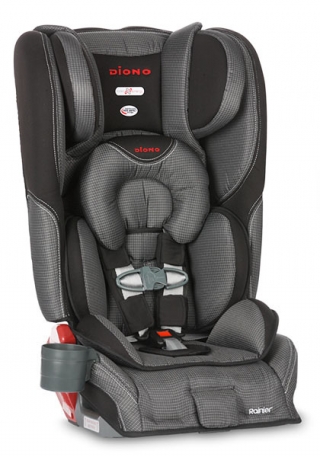 Car safety for your child will be 10x times better with the new Diono Rainier Convertible Car Seat. This incredible car seat can deliver the best protection for your kid. This particular seat can support rear-facing children from 5-50 pounds. It can also support a forward-facing child from 20-90 pounds as well. Additionally, it converts to a booster for children between 50 and 120 lbs. or up to 57″ in height.
Another unique factor would be the 12 adjustable height positions for amazing head support. It's EPS foam design is there for the purpose of protecting your kid's head and body at all times. Some of the key features of the Diono Rainier Convertible Car Seat include:
Unique SuperLATCH system that makes installation easy
Space saving design allows extra room for passengers while providing spacious interior for child
Folds flat for travel and is FAA certified
NCAP crash tested, the industry benchmark for verifying child seat performance in severe accident conditions
Other features include:
Additional forward-facing recline position to accommodate different types of contoured vehicle seats, 12-position adjustable headrest, five shoulder and three buckle positions deliver a comfortable ride.
The only brand of car seats with SuperLATCH™: with the Strongest Connectors and Secureweave™ webbing it provides an easy and secure installation
And Much More!
Finding the perfect protection for your child can be hard, but now you have all the information you need in front of you. So check out the information on the product that I have for you above.
Connect with Diono: Site | Facebook | Twitter | Pinterest | Instagram