Impress Your Spouse with a Canvas Vow Print!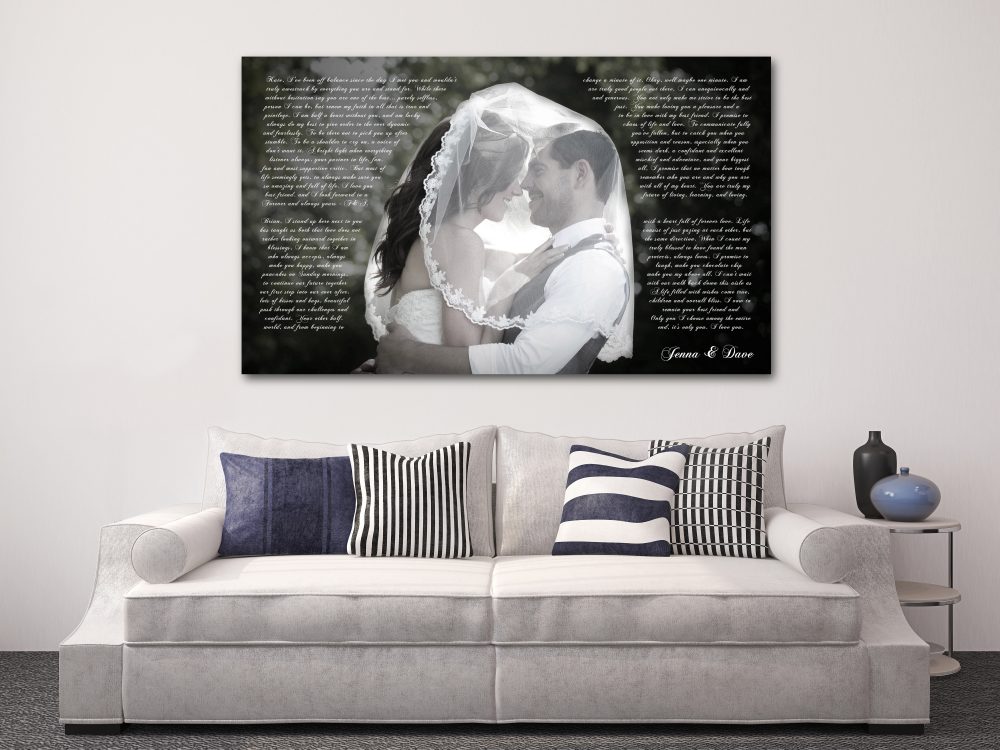 The first year of marriage is filled with bliss, excitement, and happiness of being married. The wedding is over and all that stress and now on to LIFE. The first year you learn each others ins and outs, good and bad! Some days will be better than others but rest assured these are all growing pains.
Your first anniversary is coming up, and you want to make an impression! Well then you better go all out on this 1st Anniversary Gift because taking it from me your spouse will remember this gift like they do the wedding! I received a photo album filled with our first-year pictures, and to this day I look at it every month. We have been married ten years and still strong as ever. Memories are worth millions in my book.
Now the 1st year gift should be something that should remind both of you WHY YOU GOT MARRIED! The paper is the traditional gift to give on a one year anniversary, so a CANVAS falls in that category! Better yet, get one with your wedding picture and top it off with your VOWS. Then hang this up in your living area or bedroom so every day both of you can look at your beautiful memory and SMILE! Personalized anniversary gifts are the perfect way to show your sweetheart that you thought of them ahead of time for your 1st wedding anniversary.
As you celebrate this special 1st wedding anniversary, reflect on that special day and the memories. Find that perfect picture from the wedding and your vows and ORDER ON CANVAS VOWS. They offer eight sizes to pick from, and it is super easy to order! All you will need to do is upload the picture you chose, type up the exact words you like on the design and wait for it to arrive.
Ideas for words:
VOWS
POEM
LYRICS
OR OTHER WORDS YOU WANT TO EXPRESS
Canvas Vow's material is high end and strict quality control are used in each and every canvas. They use HP latex inks that are water-based solvent-free, and odorless. Also, the canvas comes READY TO HANG with the needed hardware to hang it. Thickness is the standard 7.5.
Remember a memorable gift is from the heart! Having your vows printed on the canvas is the perfect reminder of your day and the journey you have begun with each other. So every time you look at the canvas, you will remember not only your wedding day but also your first anniversary. Plus it is a beautiful artwork for the home.
Why get a CANVAS VOWS?
It's unique; no one else will ever have this same picture hanging in their home.
It's a memory that you can look at every day!
It's personalized- you pick the picture and words
Remember your vows- when you are having a rough day or just want a reminder.
Your spouse will feel very special and loved with this gift
Products CANVAS VOWS offers:
Photo Word Art
Word Art Canvases
Sound Wave Canvas
Sheet Music On Canvas
Love Quote Canvases
Home Decor Canvases
Other Occasions:
Anniversary Gifts
Birthday Gifts
Gifts For Her
Gifts For Him
New Home Decor
Check out more information on Canvas Vows on what they have to offer. Also, make sure to follow on FACEBOOK–INSTAGRAM–PINTEREST
Besides the BEAUTIFUL GIFT also make sure the day is a celebration; this is a day you set aside to make your spouse feel special. Here are some ideas:
Ways to Celebrate Your 1st Anniversary:
Eat the top layer of your wedding cake. You know you saved that top of the cake. Pull that out at the end of the night with some champagne.
Do something THEY (not you) want to do~purchase tickets for a movie, sports event, concert, theater, etc. to attend together.
Plan a dinner at a particular restaurant or plan a trip together. Put effort into making it special.
Plan a picnic with paper plates and cups. If you saved any of these items from your wedding reception, use them!
Use paper flowers for a centerpiece for your anniversary dinner. Or use the dried bouquet from your wedding.
Make sure you get a first wedding anniversary gift from Canvas Vow.
GET CREATIVE~ Personally, sticking to the usual kind of date on a special day just isn't the right way to celebrate it- Do something different. Either make it particularly heartfelt or make it particularly exciting. Try doing something you have never done before. Like a ride a roller coaster together, go to a FAIR! Win a stuffed animal. Or what about a hot air balloon? Get the two of you up there and enjoy some real romantic views.
Or why not LEARN SOMETHING NEW~ Make the anniversary your day to dip into something that could easily become a shared passion. It might be a cooking class teaching the both of you new recipes to delight one another with. It could be a wine tasting course that the two of you enjoy getting a little tipsy on. Get the back-to-school giggles with one another and add another dimension to your relationship and your life. Learn something with the person you love.
Put AWAY THE PHONE! Paying attention to your loved one is important, as is getting that attention back. Today is the day to stop letting your mobile play such a big part in the relationship. Make a rule that the both of you switch off for the day. Don't let your phone get in the way of celebrating or enjoying your spouse.
Make sure you have an intimate moment. A good marriage should have plenty of time for intimacy. But the anniversary is a night to take it to the next level. You could, for example, surprise him with the romantic bedroom set-up. Candles, low lighting, a trail of rose petals. You can even make it a more sensory appealing experience- with food!
Now you have the PERFECT GIFT and IDEAS so enjoy your 1st Anniversary!