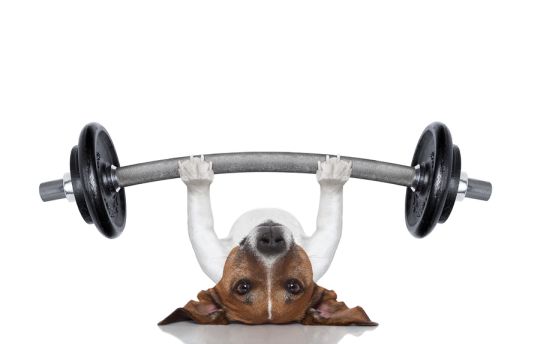 Keeping your dog healthy and happy through exercise is a lot of fun for both you and your pup. However, you may be wondering just how much exercise is necessary to keep your canine is a happy state of mind and body. This all depends on a handful of factors including your dog's age, breed, and health.
For instance, DogTime suggests a 10-month old Irish Terrier puppy will need more exercise than a five-year-old Whippet while a guard dog won't need as much as sporty breeds. Even within a breed, the need for exercise varies.
Generally speaking, most dogs require an exercise regime of around 30 to 60 minutes a day, with a bit more than just a walk around the block required for some. A dog park can be an ideal place for off-the-leash exercise such as throwing a ball. Additionally, it gives your pet a great chance to rumble with other dogs in a playful manner.
Specific exercises
If you're looking for specific exercises, it may be worth visiting your dog's veterinarian before starting a tough regime. This way, any health issues that may arise as a result of exercise can be flagged beforehand.
WebMD highlights that breeds with deep chests and narrow bodies are prone to bloating, so exercise after meals is not advised. Furthermore, breeds with short or flat noses may have trouble breathing after strenuous exercise while greyhounds/whippets are but for short-distance sprinting over long-distance.
Your dog's age could also be a defining factor in an exercise regime. ASPCA claims that sustained jogging or running is not recommended for energetic young dogs as it could have an adverse effect on their bones, which are constantly growing. On the other hand, strenuous exercise can cause osteoarthritis in older dogs so moderation for both age groups is always advisable.
The traditional long walk and the odd game of fetch can be helpful but there is more to doggy exercises than just throwing a ball. Having your pooch run with you while you cycle is a great exercise while swimming in the sea (and not the neighbor's swimming pool!) is great aerobic exercise. Hiking, rollerblading and playing with a frisbee are all important exercises too.
Is exercise just for fitness?
Exercise is not just important for your dog's physical health, it is also important for their mind. Exercise can be key to reducing common behavioral problems such as chewing, hyperactivity, excitability, and unruliness around the home. In addition, exercise can be crucial in reducing digestive problems and constipation as well as instrumental in building confidence and trust.
Weight problems are also kept under control with regular exercise and you'll be left with a tired pup on your hands come bedtime; it might make a nice change from an excitable, restless dog when you're trying to get to sleep!
Exercise is not just a physical issue but a mental one too, which means it is important to ensure your dog is getting the right amount. Depending on the variables covered in this guide, the type of exercise can vary but one thing is for certain; you'll be getting just as much of a workout as your pooch, making it beneficial for both parties!