May second was National Baby Day, but if you have a baby in your home, then every day is baby day. To celebrate, we've teamed up with Baby Magic® to offer our readers a giveaway. Read on to learn more.
Baby Magic® for National Baby Day and Every day
For sixty-five years, parents have trusted Baby Magic® to care for their little bundles of joy. It's all my mom used on us, and the only products that I used on my son. They have so many great products from baby wash, lotion, diaper creme, and more.
I swear by Baby Magic® Calming Baby Bath and more
Long before we knew our son was autistic, he was so hard to get to sleep. My husband purchased some Calming Baby Bath to try. It helped to relax our son because of the Lavender and Chamomile (which I now use in essential oils for him since he's older.) We then started using the Calming Baby Lotion too. It became our bed time routine, and we used it right into his toddler years.
Original Hair & Body Wash by Baby Magic
I call this the "new baby smell." To this day, when I smell the Original Baby Magic, I am immediately transported back in time to when my son was an infant. Scents are known to trigger memories, and this one is a huge trigger for me. My son actually still uses it, (which I love,) because it's gentle on skin, tear and dye free, and can be used on his body and hair. He loves the smell of it too.
Gentle Baby Lotion by Baby Magic®
This baby lotion not only softens skin, but it's hypoallergenic too, so it's safe and gentle for even the most sensitive skin. This lotion smells just like the Original Baby Wash, and is a great lotion for the entire family. My son has eczema and this is one of the few lotions that he can use because it won't exacerbate his condition.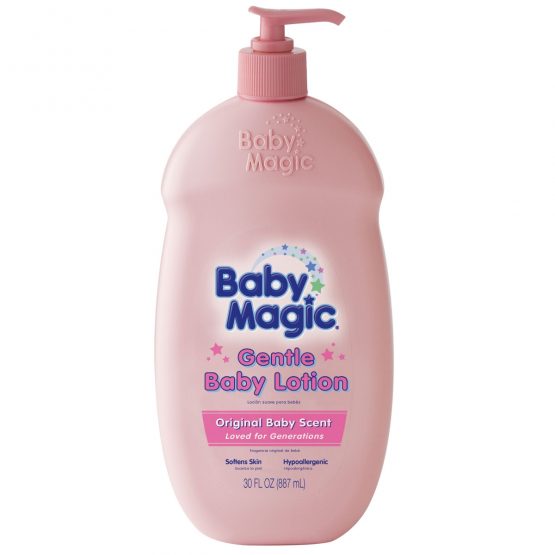 Where to Buy
Baby Magic® has a ton of other trusted and exceptional products for your little ones. To see them and where to buy, head to their website. You can also follow them on Facebook, Twitter, and Instagram.
GIVEAWAY: US ONLY
Good Luck! One winner will win a Gift Set that Baby Magic will send to the winner- please allow 4-6 weeks.