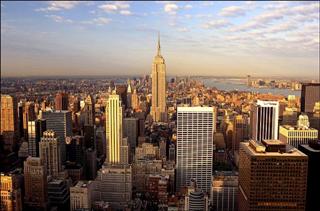 NYC: The Big Apple, the city that never sleeps, and the city that King Kong liked to cause trouble in. The ultimate melting pot. And, as everyone knows, the place where rent can get pretty crazy.
Of course, every New Yorker has some story about that one friend who lucked into the rent-controlled apartment in the Village, and they're still only paying $800 a month for it, but New York is a city of newcomers, as well. And when you go apartment hunting in NYC, it can very nearly be enough to make you rethink your decision. This guy, in particular, got upset about the rent in a pretty public way.
But if New York is the place you've got to be, well, you've got to figure something out, right? And it's not all exploitation on the part of the landlords. Furnished apartments in New York are in demand, and some of them are also in need of repair. New York is old – any NYC window repair, plumbing, or contracting firm will tell you, old enough to keep them plenty busy.
Rent in New York City is high, but it's not impossible. You just have to learn to read between the lines. For instance:
– "Cozy apartment" means, "You can touch all of the walls at the same time."
-"Studio" means, "Wait, you thought there was a kitchen?!"
-"Affordable" means, "You have a trust fund, right?"
-"Upper East Side" means, "Welcome to Harlem."
-"15 minutes to Midtown" means, "If you have the ability to fly or a limited understanding of time."
-"Fixer upper" means they haven't had the benefit of seeing a roofer, contractor, plumber, painter, or NYC window repair company in a while, which translates to "Bugs, freezing drafts, leaks, and funny smells add character, trust me."
So, here's a little guide for the out-of-town rent hunters, who are inevitably hopping on Trulia, Craigslist, and lots of other places, in their search for the perfect New York apartment.
-Contact a broker, especially if you have a neighborhood you'd like. And then count on spending another month's worth of rent to cover their fees. Sorry, it's hard to avoid, as many apartments aren't listed on Craigslist and the like.
-If you're lucky enough to have friends in the city, ask them to keep their eyes and ears open. A few New Yorkers are lucky enough to be able to tell that magical tale about slipping into a long-term sublet in a rent-controlled apartment. It could happen to you.
-When you visit an apartment, make sure to impress the landlord. Your tale of "coming here to start my dream career" are lost on landlords; stick to things like "stable income" and "non-smoker" when you're talking to them. Bring references, too.
-Read up on the Fair Market Rent Appeal, which most people outside NYC don't know about. If you're the first tenant in an apartment that has been decontrolled, you should have the opportunity – legally – to negotiate rent with the landlord. If you feel you've been gouged, do something about it.
Finding a great apartment at a decent price in the city is possible- with the right frame of mind and adequate preparation.
Jess Holmes is an avid blogger who enjoys writing about everything from travel to DIY.