Sponsored post written by me on behalf of Smithfield® Marinated Fresh Pork. The opinions and text are all mine.

Real Flavor, Real Fast with Smithfield Marinated Fresh Pork
Summer time is right around the corner, and I'm already excited for all the grilling, family, and entertaining we will be hosting at our home this year. Summer seems to be the time we all get-together but that also means we are super busy too! We are not a family who just sits around the house and wait for the party, we create the party! Enjoying all the laughter plus fun is the way to go this summer. We also love to eat, but I don't want to spend all my time in the kitchen, especially when it is hot. I like meals that are easy to prep and cook, so that is why I always pick up Smithfield Marinated Fresh Pork in the fresh meat section in Safeway.
We are not a family who just sits around the house and wait for the party. We create the party and enjoy all the laughter plus fun we have during the summer. We also love to eat, but I don't want to spend all my time in the kitchen, especially when it is hot. This time we got the Smithfield Hardwood Smoked Bacon & Cracked Black Pepper Pork Tenderloin since it looked like a favorite since it was almost gone!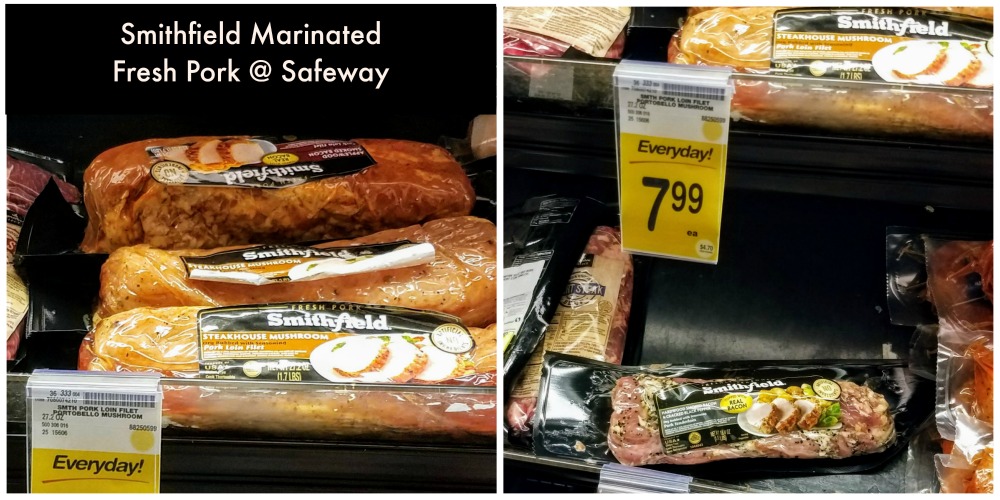 There are so many ways to cook this yummy pork loin, but my favorite way is KABOBS! My husband loves to grill, so this is the perfect meal for us since it doesn't take much to prep or cook. We will be done in 30 minutes! Smithfield always delivers real flavor, real fast!
Here are some of my goodies I'm going to use to create this fabulous meal! Of course, the MEAT which I slice into 1 inch pieces.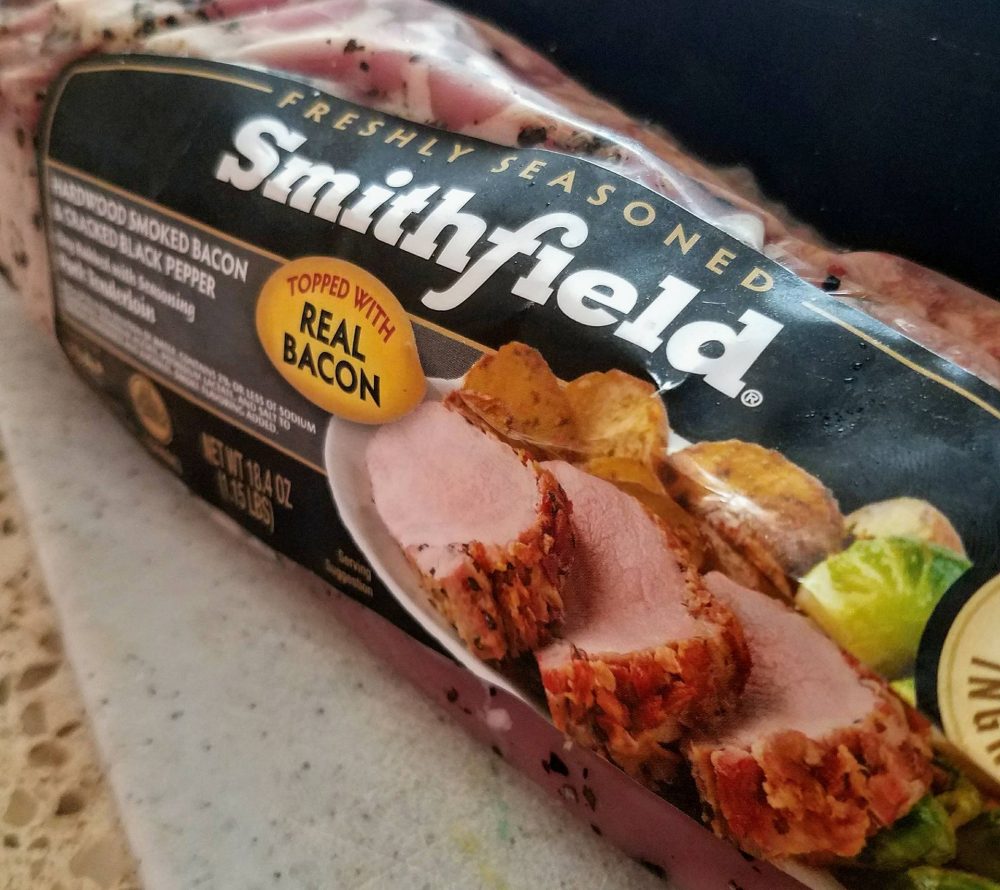 Can't forget the VEGGIES! (Safeway has an excellent produce section, too) I love colorful kabobs so make sure to get peppers!!! Now I might not be perfect in my slicing, but I have fun cutting veggies, I always cut extra for salads and kids to munch on during the next couple days. Just a little side tip there!

Now for the FUN part…putting the kabobs together. Get your skewers and start adding all the goodies. Now I'm not sure if there is a correct way to do this, but I start out with the onion, then a slice of pork, add two more veggies and repeat two more times. This took me about 15 minutes to slice and make the kabobs. While you are doing all that, get the grill going! That way when you are done creating the kabobs they can go right on the grill.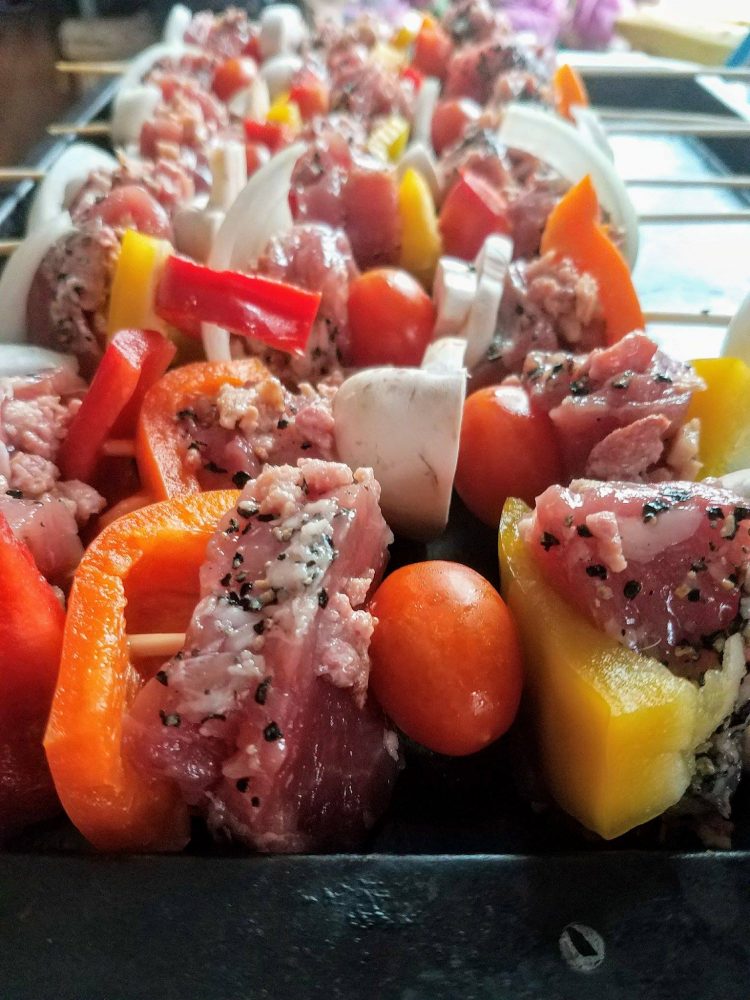 Grilling doesn't take long at all. After you get the kabobs on the grill add some sauce just to add to the flavoring! But to be honest, the Smithfield pork tenderloin is already seasoned, so you don't even have to do this step.
If you want to add a bit more flavor then get a small bowl and add in ¼ cup of soy sauce, 1/4 cup of teriyaki sauce, couple drops of garlic olive oil, and 1/4 cup of fresh lemon juice.

Then brush the kabobs with this sauce, cook for 5 minutes, turn over and brush the other side. Repeat until the pork is cooked which is usually is 15-20 minutes.
Look how yummy these turned out!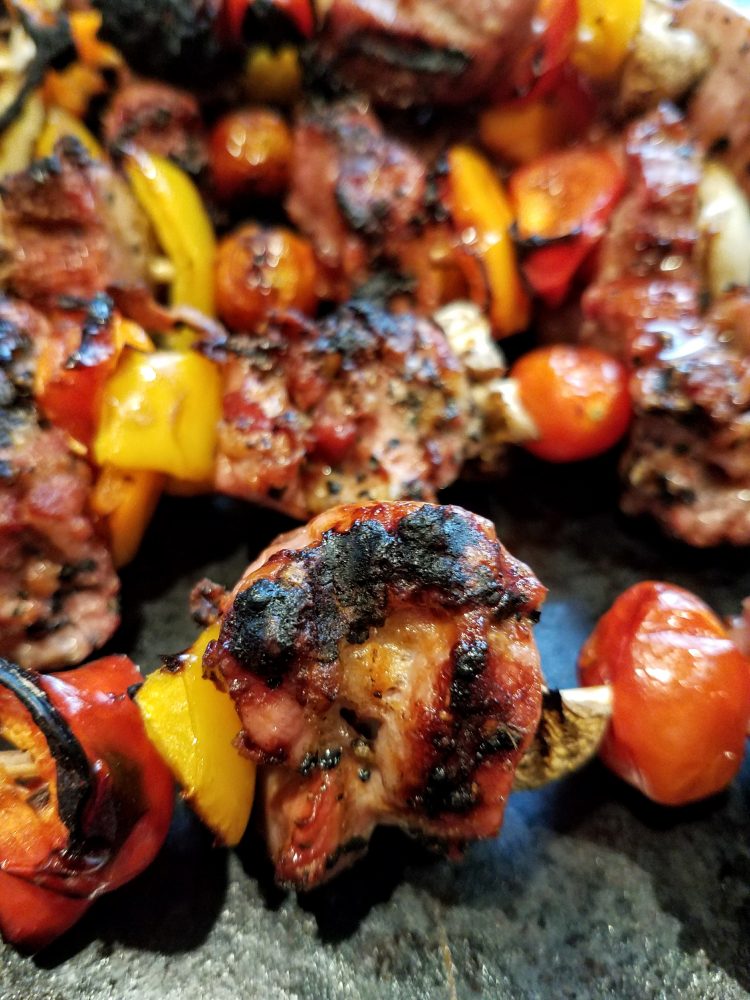 My family is always so excited when we make these pork tenderloin kabobs- real flavor, real fast. I was happy I didn't have to spend too much time in the kitchen, and my family got to eat one of their favorite meals, I did pair the kabobs with rice and corn on the cob.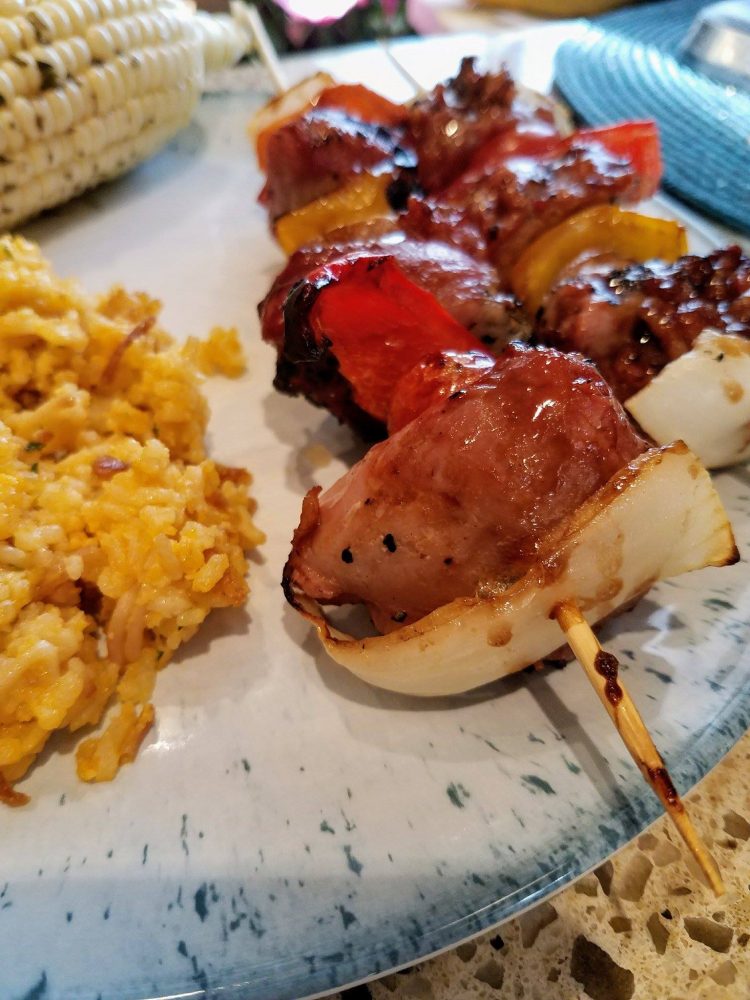 TIP:
Microwave the corn on the cob…yes and in the husk too! For every cob, it is one minute, but since I like my corn a bit softer, I add 10-20 secs for each ear. Then let it rest for a few minutes and then peel off the husk. This has saved me so much time.
Extra Bonus:
Smithfield is also challenging our readers to see what you can do with Marinated Fresh Pork to get a flavorful meal ready in about 30 minutes with their "What Can You Do With 30?" meal and tip contest. For more 30-minute meal preparation ideas, and to submit your original recipe for a chance to win great prizes, head to www.SmithfieldRealFlavorRealFast.com.
We would love to hear what pork recipes you like to make in the summertime, and do you have any tips?