#1 Save Money
This is a sponsored post written by me on behalf of Safeway.
Saving money at the grocery store is part of running my house. How I save money is stalking sales, no I'm not the coupon clipper that comes into the store with 100 coupons, NO! What I do is design my menus around my local grocery stores sales for the week. I have the Safeway App on my phone, so I can see what the weekly deals are and when there are stock up sales I jump on those, even if I'm not going to use it that week. I use my Safeway App to help me find the deals (even tells me what aisle). Most of my sale items will be used for dinner meals. I save money every time I shop at Safeway.
You might not think STOCKING UP is saving me money, but it is! Now it might not be this week, but down the road, I will need that item, and guess what I have it. I save money by shopping the Safeway Stock Up Sale by buying items in bulk, buy in season, and of course what is on sale that I can use later. I'm thinking ahead like what I need to cook for the holidays.
#2 Being Prepared

Having food on hand is always a blessing, and I never take that for granted. But what if something happens like a bad storm and I just don't want to go out to the store. Being prepared for emergencies is part of my job in this family, and I don't mess around.
When I see a STOCK UP SALE, I stock up. Winter is coming up, and I'm not going to want to be in the weather so getting ready now. My nickname at home is Mama Bear, now I know why! Stocking up on food I use weekly is a no-brainer, and if it is on sale I will stock up! Having a little extra during the holiday is also a must, I like to stock up on items I know I can bring to the food bank for others to enjoy a meal or two!
#3 Flexibility Of Menu
Yes, I do plan my meals in a week ahead but what happens if on Friday I don't feel like making the casserole and just want to fry up some chicken and rice. I can do that because I have food that I've stocked up on so I can be flexible and change up the menu.
My moods do change, and I usually do change up a meal here and there. Knowing I have the means to change my mind, is helpful indeed, no need to stress on what I'm cooking a night I get home too late. I know I have something that will take less than 30 minutes, somewhere in my kitchen.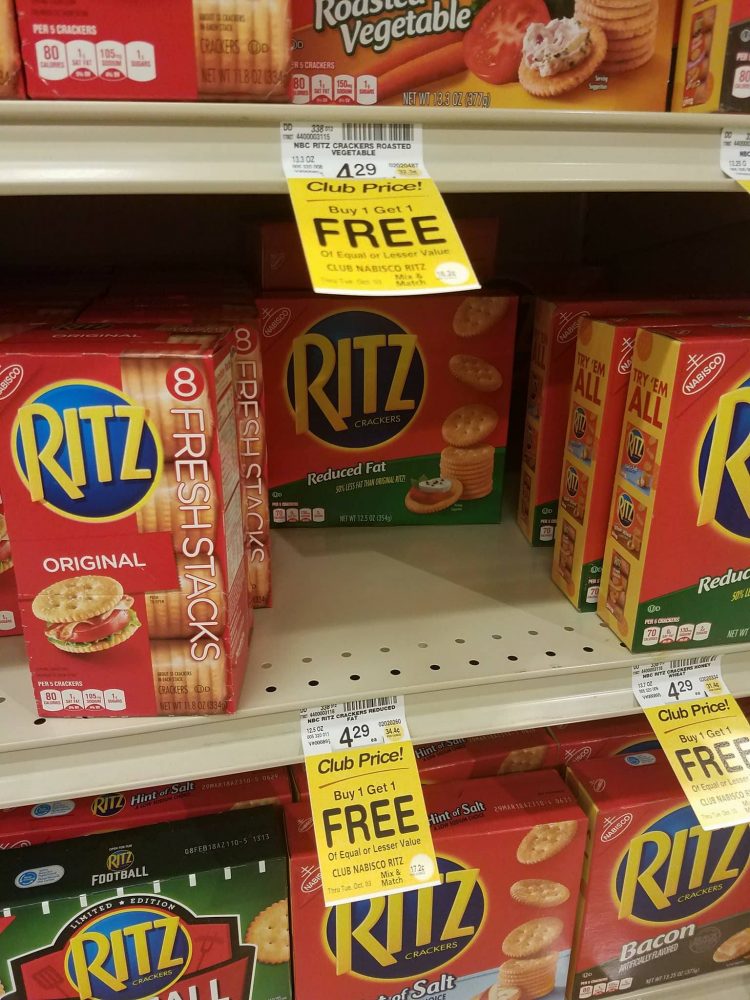 Crackers like Ritz are my favorite thing to buy during the stock up sale…and I'm not the only one!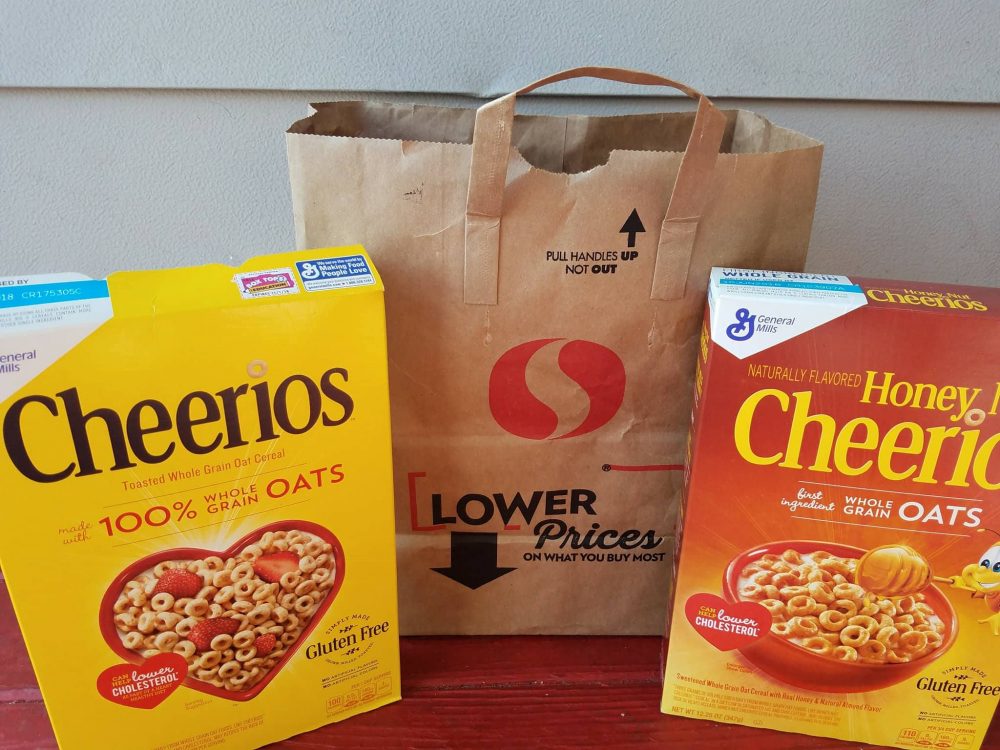 Cheerios™ and Honey Nut Cheerios™ go so fast in my house, so I make sure I have plenty, and when I see a STOCK UP sale- I'm on it!
Cooking for your family should never be a stressful event so take the time to prepare, and it's okay to change up your menu to fit your schedule. Life is hard enough trying to keep up with all the turns and twists!
Stock Up Tips:
Tell you what, why not try this trick- set aside a portion of your grocery budget to stock up on sale items. Now don't go crazy and buy everything you see, buy what you eat regularly. Buying a few items a week will help build your food storage, which will help you save money, get prepared and flexibility with your menu.
So what do you say..you ready to STOCK UP!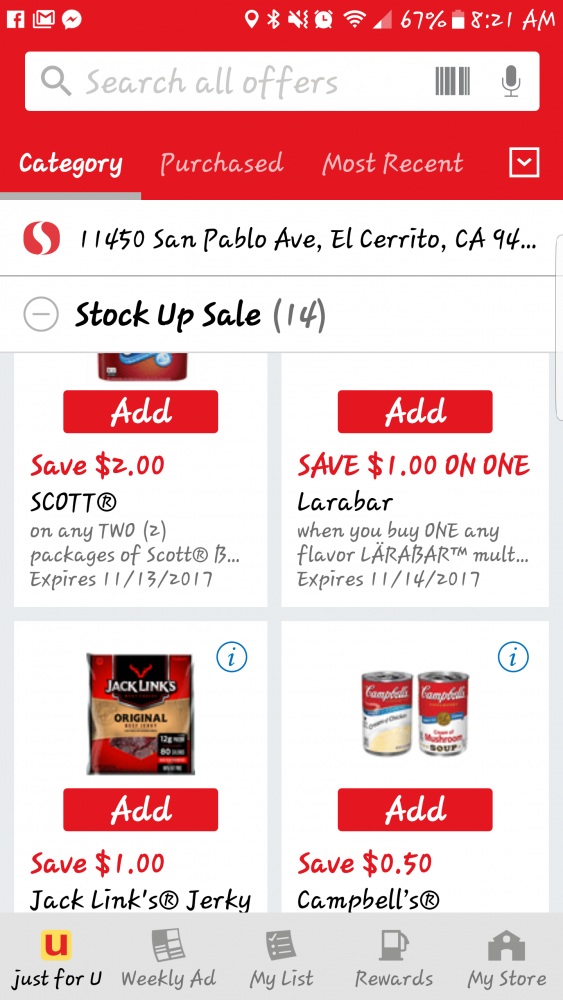 GRAB your STORE'S APP- I have Safeway on my phone and it helps me shop and save money! Plus with the Safeway Card, I also get Free GAS!
Where To Stock Up?
I shop at my local Safeway during the Stock Up Sale, and that means I can get all my favorite staples from General Mills, Coca-Cola, Kraft and Nabisco at a great value. We use these items weekly so why not buy when they are on sale and STOCK UP!. Now my Safeway is not the only store who offer STOCK UP SALES, make sure to check out these great products at your local Albertsons Companies grocery stores including Albertsons, ACME Markets, Jewel-Osco, Vons, Pavilions, Randalls, Tom Thumb, Shaw's, Star Market, United Express, United and Carrs/Safeway.
STOCK UP SALE GIVEAWAY
Safeway is giving away groceries for a year to one lucky winner. Between 10/4-10/19, show them how you how you stock up your pantry and share a photo of how you've loaded up with your favorite items, including those below, from #StockUpSale2017. Entry is as easy as 1-2-3:
Take a photo featuring two or more of the participating Stock Up Sale products below

Share the photo on Twitter or Instagram or at

Safeway

by 10/19

Use #StockUpSale2017 and #Sweepstakes in your caption and complete entry form
For official rules and details, visit Safeway.
Participating products:
Honey Nut Cheerios™

Cheerios™ 8.90oz.

Cinnamon Toast Crunch™ 12.20oz.

Progresso™ Traditional, Rich & Hearty, Reduced Sodium, Light Soup, Vegetable Classic, selected varieties 18-19oz

Nature Valley™ Granola Bars 7.44oz-8.44oz

Yoplait® Traditional Yogurt, 4-6oz, selected varieties

Oui™ by Yoplait® Strawberry French Style Yogurt 5oz.

Annie's™ Natural Mac & Cheese 6oz; selected varieties

Old El Paso™ Shells

Totino's™ Pizza Rolls 15ct, Totino Party Pizza 9.8-10.4oz, selected varieties

Betty Crocker™ Hamburger Helpers, 4.7-8.7oz, selected varieties

Betty Crocker™ Fruit Snacks, 4.5-8oz, selected varieties

Chex Mix™ 8-8.75oz, selected varieties

Betty Crocker™ Super Moist™ Cake Mix, 15.25 – 16.25oz., select varieties

Betty Crocker™ Whipped Frosting, Milk Chocolate 12oz.

Betty Crocker™ Brownie Mix, Chocolate 18.40oz.

Pillsbury™ Apple Toaster Strudel™, 6ct., 11.70oz.

Coca-Cola MiniCans

Dasani Sparkling Black Cherry

Classico Tomato Basil

Heinz Ketchup

OREO 14.3 oz

Ritz 13.7 oz
Make sure you download your store's APP, check the sales, and STOCK UP!
Let us know what you like to stock up on, leave a comment below.
This is a sponsored post written by me on behalf of Safeway.