Pumpkin Patch
1. These Velvet Pumpkins are classy yet, really adhere to the Halloween theme. I love the colors used on this set: true jewel tones that can look good on any mantel.
2. There is something so fascinating about snowglobes. This one is spooky without being tacky and is boasts some LED lights for a unique effect.
3. I can just picture myself hanging this garland on the primary wall of our dining table. It would be the cutest addition to our home's Halloween décor
4. Not exactly a pumpkin or Jack O Lantern but this Jack Skellington mug would totally fit the theme – especially with its large, round shape!
5. How about a set of Jack O Lantern string lights to give your patio that chic Halloween vibe?
Skulls & Bones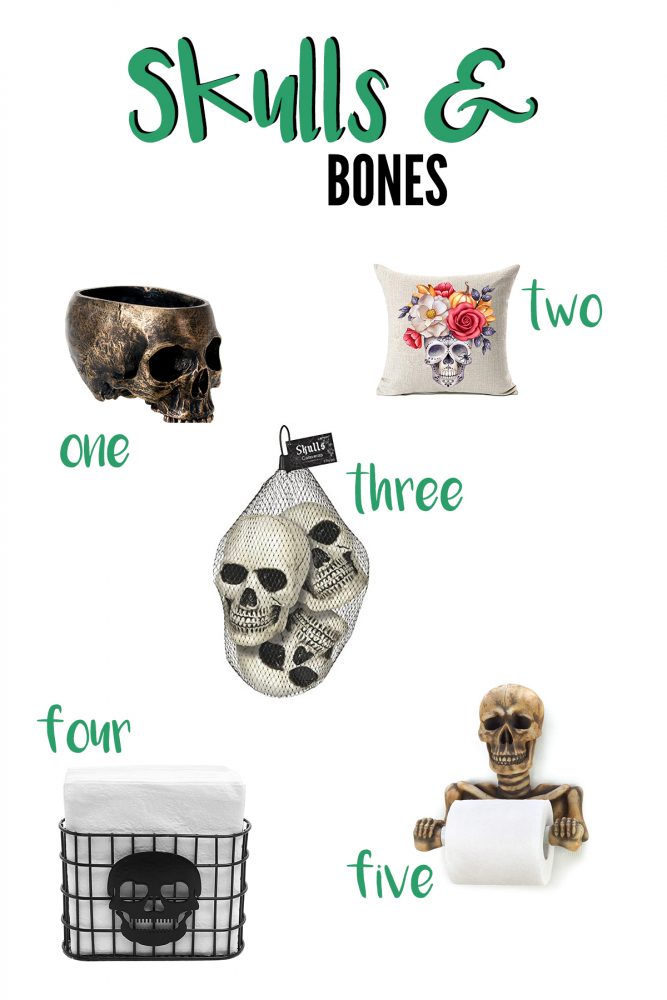 1. This skull bowl is the perfect centerpiece for our coffee table. It's a great way to serve guests some festive candy for the spookiest time of the year!
2. Talk about tasteful: this throw pillow is going to look great on my sofa. Add a thick, colorful blanket and we're ready for Halloween, but in a unique way.
3. This bag of small skulls are fun to put in corners of the home for a spooky surprise!
4. It's the little details, right? How fun would it be to add this skull napkin holder on your dining table?
5. And now it's time to add that little detail in the bathroom. This skeleton toilet paper holder is hilarious and great for Halloween!
Halloween Dinner
1. Imagine serving a spooky dinner on this spider lace table topper cloth? It looks really great on a solid color tablecloth.
2. "Can someone pass the salt? Sure, the skeleton's got it – let me just ask him."
3. If you want something a little more subtle for your tabletop, this buffalo plaid table runner is perfect for both Halloween and autumn.
4. These "bloody" juice bags will certainly be the conversation starter at your next Halloween dinner party.
5. This Halloween centerpiece is actually quite tasteful. It reminds me so much of "The Nightmare Before Christmas" – one of my favorite films!
Halloween Candy Game: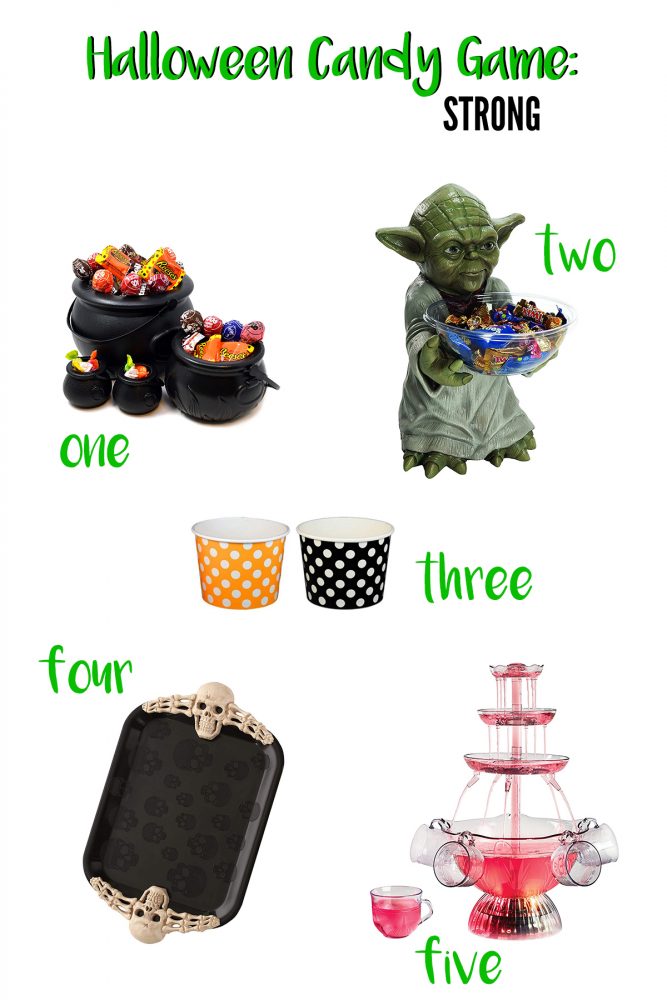 1. A classic cauldron set up to serve the best treats… and promise only treats. No tricks!
2. Hey, Star Wars fans: how would you feel if Yoda handed out the candy this year? Aww, yeah!
3. Orange and black cups to pass some treats around – so cute and so festive for the eerie celebrations!
4. Forget Halloween candy… what about Halloween cakes and other desserts? Be sure to serve them on this spooky tray!
5. What about the punch?! We can't forget about our Halloween drinks. Serve them in this impressive party drink fountain.